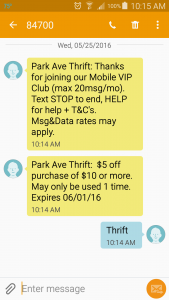 Receive weekly coupons by texting "Thrift" to 84700.
Every Wednesday is Senior Citizens Day. Receive 25% and 50% off if you are 55 or older. Some exclusions apply.
Sunday is VIP customer appreciation day. Shop during the week and receive a blue coupon for 25% and 50% off everything on Sunday.
SUMOTEXT VIP Alerts (max20msg/mo). T/C's & Privacy Policy at www.84700.mobi. Reply STOP to opt out, or HELP for help. Msg & Data rates may apply.